Telkom memberlakukan peraturan FUP atau Fair Usage Policy untuk layanan Internet Indihome Fibernya tersebut untuk membatasi aktifitas tidak wajar untuk penggunaan internet pelanggannya maka dari itu sebagai pelanggan indihome kita harus sesering mungkin mengecek penggunaan internet (FUP) agar kecepatan internet tidak menurun drastis.
Cara Cek FUP Indihome
Banyak cara untuk mengecek penggunaan FUP indihome salah satunya menggunakan aplikasi android my indihome.
Cara cek FUP Indihome dengan aplikasi
Aplikasi my indihome bisa di unduh di google playstore, lalu daftarkan dengan menggunakan akun email yang aktif. Setelah akun my indihome aktif kita bisa langsung menambahkan nomer pelanggan indihome, di aplikasi tersebut kita bisa melihat tagihan internet/telepon, pemakaian telepon dan pemakaian internet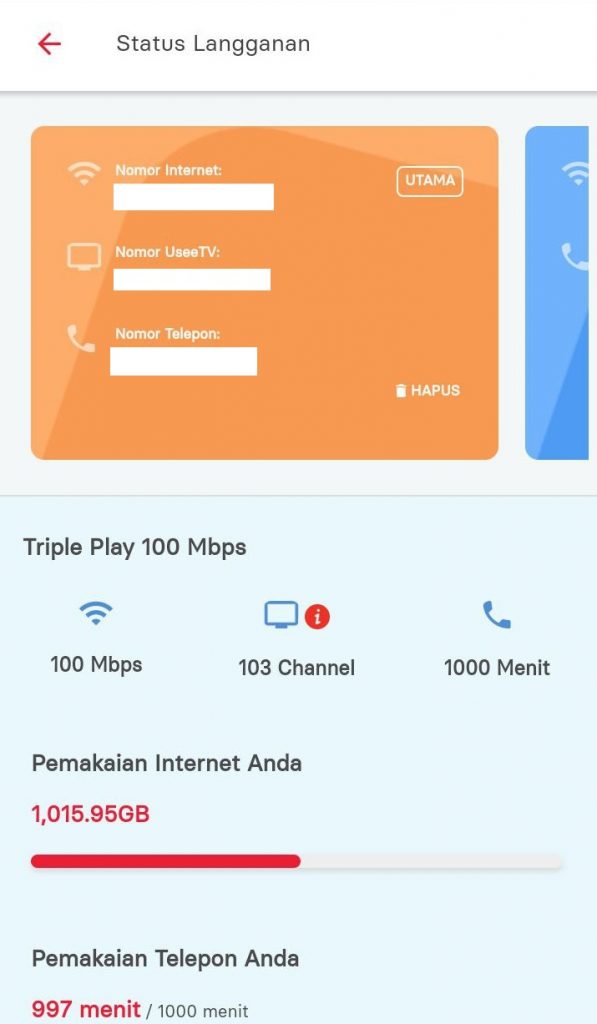 Cara Cek Fup Indihome Lewat SMS
Ternyata ada cara cek FUP Indihome yang lebih mudah dan praktis , yaitu dengan mengirimkan sms . Berikut format sms yang harus kalian kirimkan dengan tarif per SMS nya Rp . 350 ,- per 1 kali sms .
Ketik sms ISP IH Kode area+nomor telepon rumah yang terdaftar indihome
Contoh : ISP IH 0227888452
Kirim ke 98108
Tunggu balasan berisi informasi FUP Internet Indihome.
Cara Cek Fup Indihome di Mikrotik
Bagi pelanggan Indihome yang memakai Mikrotik sebagai bandwidth manager, kita bisa memanfaatkannya untuk mengecek penggunaan internet kita. Dimana penggunaan internet di cek berdasarkan total trafik yang melewati interface WAN pada mikrotik kita.
Langkah
Agar script ini berjalan dengan benar anda harus membuat terlebih dahulu bot telegram interaktif yang terdapat pada postingan berikut ini: Monitoring Mikrotik dengan Bot Telegram Interaktif tanpa Pemograman PHP
Buat Schedule
Buat Schedule dibawah ini dengan menjalankan di New Terminal. Schedule dibawah ini berfungsi untuk menyimpan informasi terahir penggunaan internet kita apabila mikrotik reboot informasi penggunaan internet masih tersimpan di system scheduler.
Share to Unlock Content
Apabila tutorial ini bermanfaat support saya dengan cara share artikel ini.. Terimakasih

Buat Schedule dengan nama "RESET-RXTX"
Script ini berfungsi untuk mereset informasi yang terdapat di schedule sebelumnya yang telah dibuat apabila tanggal mikrotik menunjukkan tanggal 01 tiap bulannya. Maka dari itu pastikan setingan SNTP Client pada mikrotik di seting dengan benar. Tambahkan script berikut di on event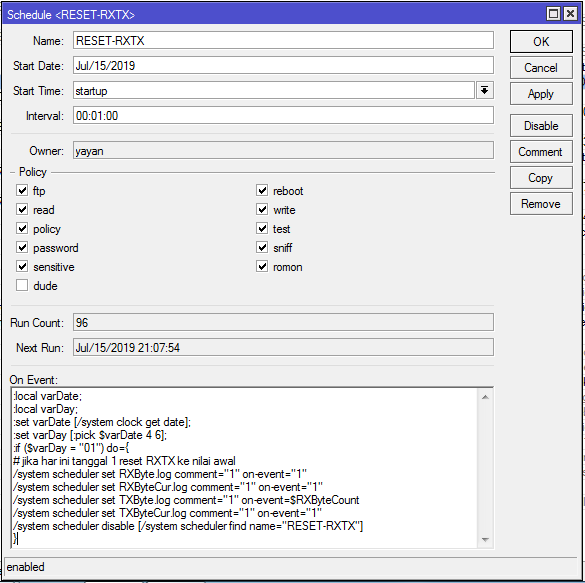 Share to Unlock Content
Apabila tutorial ini bermanfaat support saya dengan cara share artikel ini.. Terimakasih

Konfigurasi untuk SNTP Client pada Mikrotik
/system ntp client
set enabled=yes primary-ntp=202.65.114.202 secondary-ntp=119.82.243.189

Buat script dengan nama "tg_cmd_fup"
Ubah terlebih dahulu nama interface yang akan di monitoring penggunaan internetnya dan total FUPnya.
Share to Unlock Content
Apabila tutorial ini bermanfaat support saya dengan cara share artikel ini.. Terimakasih

Hasilnya
Untuk mengecek penggunaan FUP Indihome kita bisa melakukan perintah /fup di Bot Telegram. Walaupun terjadi perbedaan antara total penggunaan internet di aplikasi My Indihome dengan menggunakan Bot Telegram setidaknya bisa memudahkan kita sebagai admin jaringan untuk memonitoring penggunaan internet.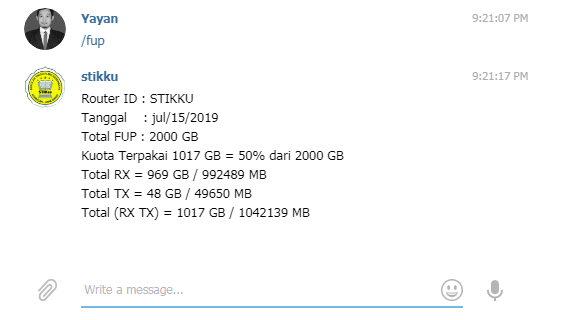 Agar status RX/TX byte selalu update sering-sering lah mengecek penggunaan internet kita (FUP) apabila mikrotik restar maka penggunaan internet terakhir sebelum melakukan perintah cek fup tidak akan terakumulasi karena status rx-byte di interface yang di monitoring akan kembali ke nol.
Agar penggunaan internet terakumulasi dengan baik kita harus membuatkan schedule baru dengan script sama seperti "tg_cmd_fup" tinggal hilangkan saja perintah untuk kirim ke Bot Telegram. Simpan script ini di system scheduler agar penggunaan internet terakumulasi secara berkala:
Share to Unlock Content
Apabila tutorial ini bermanfaat support saya dengan cara share artikel ini.. Terimakasih

Referensi script : http://www.o-om.com/2017/06/mikrotik-bandwidth-monitoring-script.html