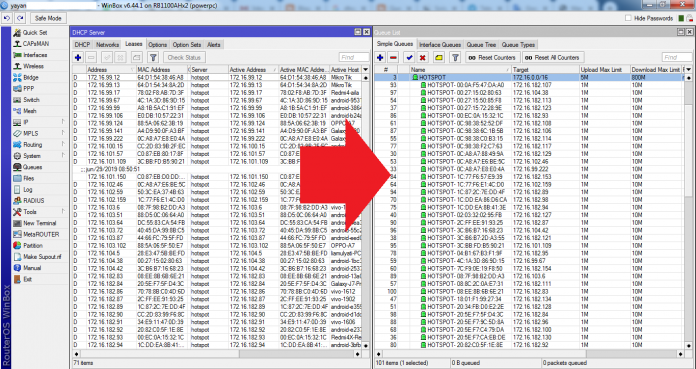 Script ini bekerja ketika terdapat device yang terhubung ke DHCP Server lalu secara otomatis melimit dengan simple queue, dengan syarat device tersebut berstatus bound di DHCP Server–> Leases
Langkah
Masuk ke IP –> DHCP Server –> Pilih nama DHCP Server, lihat pada gambar berikut:

Setelah dipilih, Simpan script di kolom Leases Script, lihat pada gambar berikut:
Script DHCP Server Lease To Simple Queue
Ubah nama parent dan nama client apabila ingin diubah lalu Sesuaikan dengan IP Network dan total Bandwith yang akan di limit.
Share to Unlock Content
Silahkan share untuk membuka link download dan membuka scriptnya
Apabila tutorial ini bermanfaat support saya dengan cara share artikel ini.. Terimakasih

Hasilnya
Semua Device yang terhubung dengan DHCP Server di limit otomatis dengan menggunakan Simple Queue. Ini sangat berguna bagi router Mikrotik yang melayani client yang cukup banyak jadi tidak repot dalam hal managemen bandwith. Script untuk memonitoring Client yang terhubung ke DHCP Server lalu akan otomatis di monitoring dengan Netwatch dengan judul : Monitoring Client DHCP Lease dengan Netwatch dan Bot Telegram.
Baca juga: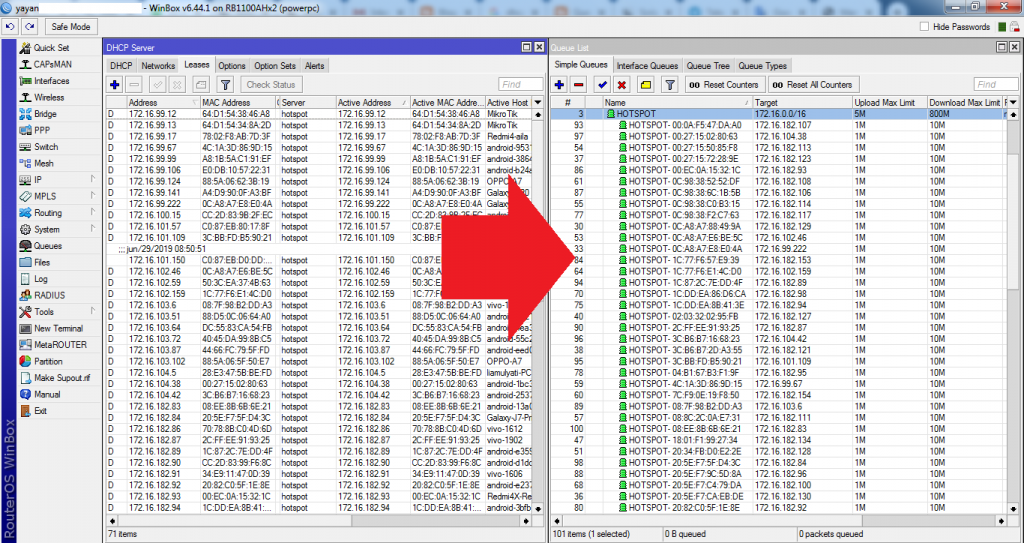 Referensi: Forum Mikrotik